Locations
The Raukumara Ranges

The last remaining wilderness in the North Island of New Zealand for a spectacular hunting adventure.
Travel by 4 x 4, jet boat or fly in by helicopter to some of the most remote and pristine areas in the country.
Non hunters – enjoy the a photo safari and learn about the local ecology, flora and fauna.
Connect with the environment and the people as you learn about traditional Maori medicine and practices in uninhabitied places that will stay in your mind for the rest of your days.
Rafting/Hunting trips are available on request, cruise and enjoy the scenery or hit the rapids and hang on!
Rotorua
Hunter training is conducted at our purpose built Deer stalker and Pig hunting training camp in Rotorua. This includes game target shooting in a forest setting, Deer stalking and Bushcraft training.
The guided Trout fishing training is available on rivers or on the lakes in the region.
This is an amazing way of learning hunting and fishing and increases your chances of success enormously.
• Hunting and Cultural/Eco Tours
• 240 acres of exclusive hunting.
• Rred stags, fallow deer and small game hunt options
• Rifle range and clay bird shooting.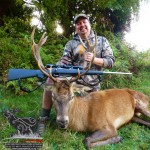 • Cultural / Ecological Tours.
King Country
We have hunting access rights to more than a dozen farms and locations in this region. Local accommodation is available with guided hunts that assure success.
• 10,000 acres of privately owned land
• Red Stag, Fallow deer, Pigs and Goats hunt options
• Vehicle or Helicopter access
South Island
Experience the best hunting the South Island has to offer with access to unique areas in amazing country.
Packages available:
• Red deer – Trophy and meat animal hunting. Free range and estate hunting options are available
• Fallow deer – Trophy and meat animals. Free range and estate hunting also available
• Alpine Hunting – Trophy Bull Tahr and Chamois hunting.
• Heli Hunting option available for exclusive access to back country hunting spots
***Options for non hunters are available with comfortable accommodation and access to a range of activities