Student Training
Basic Instincts presents The Ngahere Toa – Warriors of the Forest – Student Programme
This programme is dedicated to showing students a different way of life, teaching them new skills and empowering them to move into the future as leaders.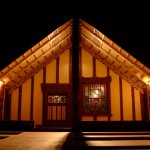 The programme consists of:
Connection - Come into the forest and connect to the living world around you, discover a new way of listening and communication.
Firearm Safety – Receive comprehensive firearms safety training at the Basic Instincts Hunter training camp.
Hunter training – Deer stalker training, "live" target shooting, skeet and target shooting. Learn the skills to safely identify your target, move in the environment and bring you success in your hunting experience.
Bush Survival Skills – Learn the skills to survive in the environment, from fire-making to creating shelter, foraging skills to understanding the environment around you and feeling at home.
Ecological Training – learn about the environment and the interconnection between ourselves and the natural world. Learn about the impacts on the environment and gain the tools to make a difference.
Rongoa Maori – Learn about the medicinal healing properties of the native plants of Aotearoa. Gain a deep understanding of Maori medicinal lore and with it, learn more about the Maori world view and the privilage and responsibility of Kaitiakitanga – Guardianship of Te Ao Marama.
The course runs at $65.00 per student, lunch at $15 per person and an overnight stay option is available at $35.00 per student.
Come and join the team at Basic Instincts, with over 35 years hunting, ecological research and outdoor educational experience, we look forward to sharing our knowledge and experience with you.