Testimonials
Tony Duo and Friends – Hunter training and meat animal hunt
"特殊的体验&美好的一天"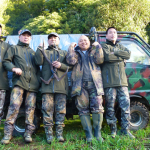 JOSH和GARY的热情,专业以及丰富的当地知识,给我们留下了深刻的印象。
我们体验到了一次真正意义的HUNTING,学到了很多的知识。
我们一行六人都非常的满意和高兴!!!
特别对GARY的厨艺和JOSH的HOSPITALITY提出表扬!!! :)
"Special experience & good day"
JOSH and GARY's enthusiasm, professionalism and a wealth of local knowledge, to have left a deep impression. We experienced a real sense of HUNTING, I learned a lot of knowledge. Our party of six people are very satisfied and happy! ! ! GARY especially for cooking and JOSH commend the HOSPITALITY! ! !

Peter and Bin – Hunter training and meat animal hunt
March 2015
(Basic Instincts are) professional and very friendly to deal with, highly recommended. We had no hunting experiences at all but we had the most exciting day. Everything was well planned, from a lovely BBQ lunch to training, to real hunting. If you have no experience like us then Basic Instincts not only point you to the right direction, but also are very approachable companions. We will definitely come back in near future with our other friends. Awesome!!


Tracy Fleming for Steve Ward – 14 point Stag hunt
May 2013
I had the best experience with Basic Instincts Hunting! They are more than just a business, they are good people who made my dream a reality. I made the long trip back to the US with my dream Red Stag & memories with new friends that will last a lifetime.
Guy and Karl – Red Deer Hunt
February 2013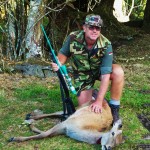 "Great day with Gary, Josh & the crew. Excellent setting with a magnificent camp. The day was well tailored to suit Karl and me – both reasonably experienced hunters who were keen to see some new territory and learn some new things.
We enjoyed a superb meal (pheasant sausages and venison) as we solved the world's problems around the fire after an interesting mosey around the camp. The late afternoon saw good numbers of deer spotted and a good red spiker for the pot. Good people, good day, good fun – thank you"
Guy Savage.
Matt, Julian and Paul
February 2013
"We all had a great Day thanks. Gary showed the boys plenty of Trees and Birds which was a very nice touch. Kane and Josh are both really good guys and made us all feel very welcome.
You guys have a great spot there and the way your running things you will only ever do well
Please let the Boys know how impressed we all were"
Kind regards
Matt.
Graham and Malachi Renata – Father and Son hunt, Rotorua
December 2012
I would just like to say what an awesome day I had on Friday. Mac is grinning from ear to ear. This experience has confirmed that I definitely want to get into Pig hunting and going bush with my son.
As you say we are in an age where kids are easily lead in the wrong direction. My aim for this hunt was not only to pig hunt but for Mac to hopefully learn something as well.
Garry you have done more than that, this has turned into way more than that. You have shown my son things that will be scarred in heart and mind for the rest of his life.
You truly are an amazing man, it has been an honour for me to meet you. This will never be forgotten and I will definitely be seeing you again soon.
Again I cannot thank you enough for what you have done this was truly a priceless experience that will never be forgotten.
Arohanui
Graham Renata
Richard and Sean Doubtfire – Father and Son day, Rotorua
November 2012
Just want to say we had such a great day and still buzing and can't wait to catch up again for another hunt. It was such a great time I had with my son and he was so comfortable with you and Josh you are both great blokes. Here's to many more hunts in the future. and hopefully friendship.
Richard
John Fox (Canada) – Pig & Pheasant hunt, Taupo
May 2011
I still look back at the pictures of that day with Chris and think of the good time I had. Chris was an outstanding guide an a very good guy to hang around with, I wish I would have had more time to either hunt/fish with him or even have a few beers! Also Pokey and Winston were excellent, their dogs were top notch and they were a couple of good guys too. I asked a lot of questions that  day and they answered them all….. even the obvious ones. It was a great day and a good learning experience for me.
All in all the hunt was great! If I am ever back in the area again i will not hesitate to call you and arrange another great day. I also have been talking you guys up and have already sent your e-mail address to a few people who plan on going to the North Island in the future.
Before i sign off, i again must thank YOU Zoe, for all the hard work you put in arranging my days hunt. With me and my family travelling we were not sure from one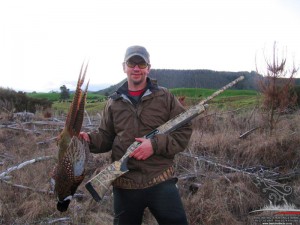 day to the next where we would be or what we would be doing and you guys were great at accommodating my ever changing schedule. A GREAT BIG THANK YOU ZOE!!!!! (I'm not sure how many phone conversations we had but we worked it out in the end,… thanks for your perseverance!!)
Thanks again!………Though the pig wasn't that big it was a great day out, and a great experience, you guys sure know your business and are tops in my book!!!
All the best and keep chasing those pigs and pheasant!!!
Oliver el-Gamel (UK) – Father and Son Hunt & Fish package.
July 2010
When I first met Garry on a freezing cold Rotorua morning I instantly felt comfortable and looked after! Being new to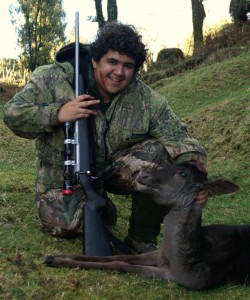 New Zealand, Garry told us all about the cultural importance and history of the area we were in and I never knew there could be so many stories locked in the earth!  The block we hunted on was nothing like Id ever seen before, let alone had the opportunity to walk through and explore.  It was like going back  in time ! Then the deer – man we saw a lot, including a huge red stag  early on in the morning, so with Garry's great Tikka 270 in hand I was shown the ropes of tracking and stalking deer.
Needless to say, some beginners errors caught me out [like forgetting to fully close the bolt  on the 270] and  I'm sure that hind thought, "who's this crazy idiot" as it ran off after giving me a perfect broadside target for what seemed like forever !
At lunch we stopped and had a great feed in the bush and later that afternoon [through  no small help from Garry], I harvested my first deer – a fallow hind !
Well now onto the  fishing and man was it good – there were fish everywhere.  I caught  snapper, kahawai, gurnard and even a bronze whaler shark.  Garry taught me how to gut and scale the fish and told us a few of his recipes as well !
Going out in the bush with my dad and Garry was the best decision I've  made in the short time I've been in New Zealand and not only do I have  a greater respect and understanding for the bush and why it needs to  be protected, I also have a great friend and a deeper bond with my Dad.
Thank you Basic Instincts and thank you Garry

Jono Clark (Australia) – Deer Hunt, Mamaku
June 2010
I have always been an outdoors kind of person, being brought up to appreciate and respect the wild, especially the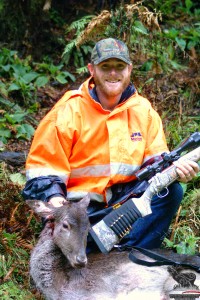 ocean where I have spent most of my time fishing and spear-fishing until just recently – where I found a new love, thanks to Garry and Zoe and the Basic Instincts hunting crew.
Mum and Dad had both mentioned to me of the sincerity and warmth that they both got from the contact they had from Zoe and Garry who run Basic Instincts in the lead up to the hunt, and that put us at ease from the get go.
We arrived at the hunt location to the first of many showers for the day, but spirits were high and hopes well outweighed any rain that could fall.  Upon arriving we met Kane our guide for the day and we told that there had been a few good deer sighted but they had been left alone for some time so we should be in for a good day, despite the weather.
Boy was he right, after a few hours learning the ropes with the stalking and tracking and taking in the pure serenity of the whole situation we found ourselves in,  it was time to put it all to the test when three good fallow hinds broke off and the game was on.  With Kane and I at the front and my father Roger and Garry slowly tracking us we made our way through one picturesque gully after another until after coming up over the final rise there they were and I let the 30-06 ring out………. After a few seconds of disbelief we made our way forward and found my prize – about a 70kg Fallow Hind that would prove to be the highlight of my year so far.
I would most definitely advise anyone who is looking for a well priced hunt that offers a great platform for learning a new skill, or advancing one you already have, in a picturesque environment to contact Basic Instincts.  Garry was beyond professional with the whole setup and has an amazing story behind the whole show that makes hunting with them seem even more special.
Good luck to all and enjoy what the Basic Instincts crew have waiting for you!
Leon Bosch (Sth Africa) – Pig & Deer Hunt, Taumarunui
July 2010
As I have a keen interest in hunting I decided to find an organisation that provided hunting services in the North Island.  Not an easy task as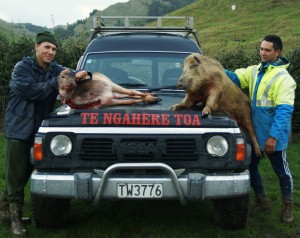 most organisations are extremely expensive and do not cater for the average local living in New Zealand.  A few of the places don't bother replying to your request and others were beyond my price range.
I found a brochure advertising Basic Instincts and decided to contact them.  Their turn around time in responding to my requests was fantastic.  They provided me with detailed information regarding numerous packages which gave me an overall view of what was on offer.  They also advised me of special offers available at the time.
Once I had chosen my Twin Package Deal (a Pig and Deer) I was ready to go.  My accommodation was arranged by Garry and Zoe and I was met by Garry at Owhango Hotel the day before the hunt.  Spent the evening at the Hotel where the locals and hotel staff go out of their way to make you feel at home. Early off the next morning we met our Guide, Harvey and it was not too long and I landed my first prize, a Wild Pig [140lb fat sow].  Later that day my second prize, a Deer [fat Fallow Hind] was in the bag.
I received excellent service from both Garry and Harvey.  A very hands on and friendly approach to hunting.  I was made to feel very at home and they passed on their knowledge and skill with great efficiency and ease.
I would highly recommend Basic Instincts and will definitely be returning to do another hunt with the guys.
Paul Beckett (Ireland) – Wairata Helicopter Hunt
Basic Instincts is an exciting company specialising in tailor made Hunting & Fishing trips. I have had the good fortune of being on two different types of these trips, an exciting adventure to  Wairata in the Urewera Mountain range. We were flown in by helicopter and met there by our guide. The set up was amazing, with their specialist all terrain hunting vehicles, we could pretty much go anywhere. Coming from Ireland and never having hunted before, I find New Zealand a truly magnificent country, which is perfect for wild deer hunting. I was so comfortable with the service they offer that I was able to bring my girlfriend on the one day trip to Mamaku. Basic Instincts has given me a real eye opener to hunting and I felt in good hands with the expertise and safety measures they have in place. They are an extremely professional company with years of experience and full of good sound advice. I would not hesitate in recommending them to my friends abroad.
Andrew Chiz (Singapore Army) – Night & Small Game Shooting
Had good fun shooting opossums and rabbits.  Many thanks for a great time! Hope to see you again soon.
Yvette Coetzee (South Africa) - Non-hunting experience
I want to thank you for a wonderful experience. I cant tell you how much I enjoyed it. Every aspect of the trip exceeded my expectations. The trip catered for non hunters too and it was amazing to experience the bush life and scenery. I had so much fun taking part in the target shooting and claybird shooting, as I'm not really a hunter. You truly have something special.