For the Game Hunter looking for a fantastic hunt and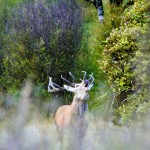 a trophy to remind them of the experience, Basic Instincts provides a Trophy Hunting experience that will last a lifetime.
Our guides love the thrill of the stalk and can cater to all types of hunting styles so if you like to shoot from a distance or get right up close we can do it.
We offer packages in areas from the mighty Motu in the East Cape, to our Mamaku training camp in Rotorua, "Spot X" our fantastic King Country hunting wonderland through to amazing New Zealand hunting experiences not to be missed in Queenstown!
Red Stag Package Prices start at $1850.00 with a 10-12 point animal included.
Other animal options are available including:
Prices vary according to location so Contact Us and let us know what you are after!
Additional options include: A "Wild foods" BBQ  of Pork or Venison at $35.00 per person (standard lunch option also available at $12 per person)
Please note all prices are GST exclusive.
Accommodation can be arranged, prices vary from location to location, transport can also be arranged if required as well as taxidermy services to preserve your fantastic Trophy animal.